Home
> Incoming Students >
ABOUT OXFORD AND UM
Oxford Campus
The University of Mississippi Oxford campus is home to most of the University's undergraduate programs as well as many graduate faculties. Academic buildings and campus housing nestle around a large green area known as the Grove. Surrounding campus are a number of sports facilities, creating a border between the campus and the community.
More information about the University of Mississippi can be found at the following links:
The University of Mississippi Website
Faculties and Departments
Student Organizations
Campus Housing
Virtual Campus Tour
Campus Map
Ole Miss Newsdesk
Student Newspaper
Ole Miss Live Cams
About our Location
The University of Mississippi is located in the heart of the American South, in the north-central region of Mississippi, in a town called Oxford.
Oxford is a small town with a big vision. Full of artists and musicians, the town is well known throughout the United States for its delicious Southern cuisine and great literary traditions, including local writers William Faulkner and John Grisham.
For more information about Oxford, check out
http://visitoxfordms.com/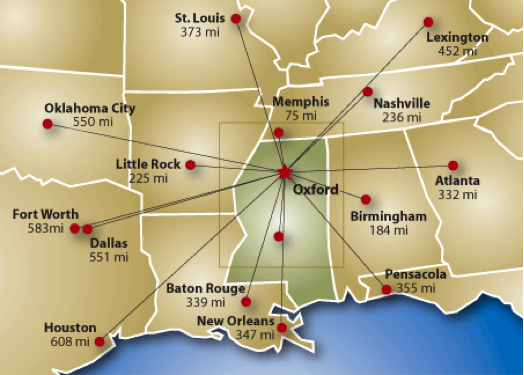 The State of Mississippi welcomes folks from all over the world to visit and enjoy our hospitality. Full of friendly people and interesting places, Mississippi is sure to offer you a semester or year of new experiences.
For more information about Mississippi, check out
http://www.visitmississippi.org/
.
The American South has something for everyone. We've got big cities like Atlanta, Nashville, and New Orleans. We've got itty bitty towns like Hot Coffee, Alligator, and Money. And everywhere in between we hope to find you relishing our cuisine, culture, and kinship.
For more information about the South, check out this info on the
Southern United States
.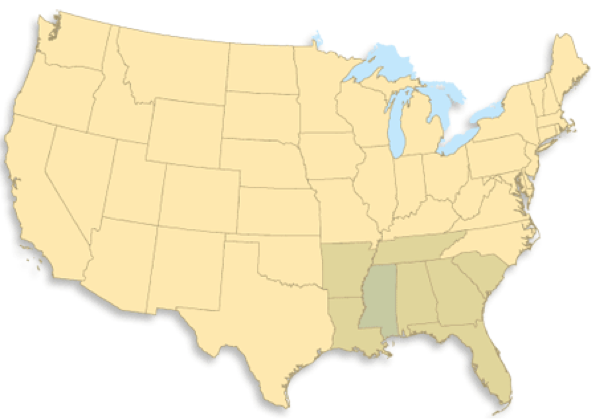 Facts and Figures at a Glance
Founded in 1844 and opened to students in 1848, the University of Mississippi, affectionately known as Ole Miss, is the flagship institution in the State of Mississippi.

Ole Miss is located in Oxford, Mississippi, about 80 miles (130 km) south of Memphis, Tennessee. The wooded campus covers nearly 1,000 acres and includes 220 major buildings. Additional campuses are located in Southaven, Tupelo, and Jackson, Mississippi.
The student population is 18,794.
The student-to-faculty ratio is 19:1.
The University is home to many national research centers, the Croft Institute for International Studies, the Sally McDonnell Honors College, and the Center for Southern Culture.
The Oxford campus houses the following academic schools and colleges: College of Liberal Arts, School of Business, School of Accountancy, School of Applied Sciences, School of Engineering, School of Education, School of Nursing, School of Pharmacy, and School of Law.
The UM libraries house nearly 1.3 million volumes, more than 12,392 current periodicals, 140 electronic databases, and over 27,000 electronic journals. The J.D. Williams Library at the Oxford campus boasts the world-renowned Blues Music Archive.
The university competes at the highest level in 18 men's and women's sports.